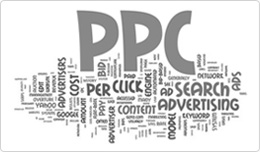 PPC (Pay Per Click) marketing is a paid search marketing process of gaining traffic for your website by purchasing ads on search engines.
SEOPad offers following Pay Per Click services:
1) Pay Per Click Set-up or Pay Per Click Tune-up
2) Pay Per Click Management
Pay Per Click Set-up is required if a new pay per click account has to be setup from scratch, on the other hand Pay Per Click Tune-up maybe be requited to tune your existing pay per click account. Ongoing monthly management service is offered on both new and existing PPC campaigns.
PPC Tune-up is suitable for those of you who already have a paid advertising campaign up and running and it doesn't seem to be generating enough traffic, or is not giving good ROI. SEOPad can help reduce costs while increasing traffic through to the site. We do this using a number of tried and tested PPC campaign technique – such as improving adverts, researching more niche keywords, configuring day parting and more.
$500* Initial Setup
Up to 50 keywords
Up to 5 Adgroups
Up to 20 adverts
Medium Websites
per month
$750* Initial Setup
Up to 100 keywords
Up to 10 Adgroups
Up to 40 adverts
Corporate Websites
per month
$1250* Initial Setup
Up to 300 keywords
Up to 20 Adgroups
Up to 80 adverts
*Our set-up fees are for one paid search provider, if you wish to use or are using numerous paid search providers (i.e. Yahoo, Google and MSN) then please contact us to discuss appropriate pricing.
PPC Set-up Service or PPC Tune-up Service includes:
Establishing specific goals and initial expectations
Comprehensive Keyword research & finalization
Competition Analysis
Implementing and building comprehensive negative keyword listing
Building and designing correct campaigns for search and content network advertising
Campaign creation
Ad group creation
Writing adverts and selecting landing pages
Configuring max Cost Per Click (CPC)
Usage of budgeting tools as needed
A/B Ad Copy Testing
Establishing geographical targeting and correct ad timing
Configuration of analytics for conversion data
Report of changes, covering keywords, advert text, costs
PPC Management Service includes:
Dedicated account executive for ideas, concerns and questions
Website consulting and continued business
Ongoing pay-per-click development strategy
Continuous platform updates in order to reflect ongoing changes in strategy
Continuous bid and position observing to accomplish desired results
Keyword performance analysis that's ongoing, deletions and additions
Ongoing ad copy testing and analysis
Ongoing conversion tracking analysis
In-depth pay-per-click reporting and analysis
Protection of trademark infringement
Work to boost volume and reduce spending.
Getting higher click through rates
Improving quality scores and increasing conversion rates
Why choose SEOPad for your Pay Per Click management needs?
1) We are Certified by Google Adwords, Yahoo! Search Marketing and Microsoft adCenter.
2) We have over 10 years experience in managing Pay Per Click accounts and keep up with latest trends
3) We have dedicated account manager at Google & Bing who are available, when we need assistance.
4) Our pricing is extremely competitive for similar services.
5) We are one stop shop and can handle your Organic SEO as well.
6) We have improved our own ROI and have ranked as an INC500 company two years in a row, we could use the same methods to improve your ROI.
If you have any questions concerning our services or if you are ready to start your PPC campaign, contact our friendly staff at 1-800-940-8016.