Refund Policy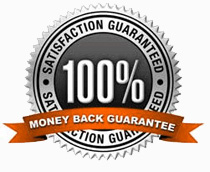 How does it work?
"Initial period" is a 7 (seven) months period which will start from the date the website goes live on the Internet (if designed by SEOPad) or from when the site is made live on the Internet by client's web designer and handed to SEOPad.
a) If guaranteed results (as per agreed contract) are not achieved within the initial period, the client has option to request a refund on fees paid (excluding the setup fees) AFTER this initial period has been reached.
b) Alternately client can request that SEOPad continue the SEO work and agree to no refund. If this option is opted, billing will automatically be stopped and, as a return of courtesy to the client, 3 months of free SEO service will be provided even after guaranteed results are achieved.
Refund Restrictions.
a) Setup fees are non refundable. Setup fees are charged to cover the cost involved with initial website analysis, devising an effective SEO strategy, providing expert advice, onsite and offsite optimization (such as directory submissions), article writing etc. Please rest assured that we would do everything in good faith to retain your recurring business.
b) While this contract can be cancelled at anytime, a refund will not be provided if this contract is cancelled during the initial period. In this case, while future billing will be discontinued, no prorated refunds will be given.
c) A refund will not be provided if the client or client's agent (such as a web designer other than SEOPad) makes any changes themselves to copy, content, alt tags, images, keywords, meta tags, design layout or structural changes including menus on the website without prior agreement from SEOPad. This is to ensure that all changes are done so in accordance with proper SEO techniques.
d) A refund will not be provided if client does not approve SEOPad's suggestions to certain changes ("White Hat" only) including, but not limited to, changing web content, keyword density, codes, website navigation, and structure.
e) A refund will not be provided if client hires another SEO Company within the initial period or performs SEO on his/her own.
f) A refund will not be provided to any domains that are blacklisted or become blacklisted due to client's fault.
g) A refund will not be provided if client restricts SEOPad with access to the website which it was hired to SEO or if the client's website is offline and not available on the public Internet.
h) A refund is not applicable if client goes out of business or changes his approved initial website URL or approved initial keyword list.
i) A refund not applicable if client prevents SEOPad from performing its service obligations in any way.