SEO Audit & Analysis Services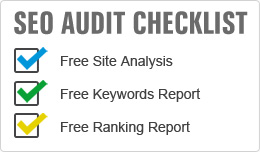 There's no more important measure to SEO than the search engine optimization audit. Prior to you investing a lot of money in link building services, you wish to be certain you are obtaining the most from your site. And this means developing a strong foundation from the beginning, one which you will continuously benefit from.
Not all websites are prepared for a comprehensive search engine optimization audit. If you merely require a jumpstart for your search engine optimization, think about submitting your website for a micro-search engine optimization audit. If chosen, we will assess your website publicly upon the SEOPad YouTube account and blog. Whilst useful, the micro-search engine optimization audit doesn't substitute a personalized, comprehensive search engine optimization audit, therefore read on for details upon how you get in touch with SEOPad to take your website to the next level.
Search engine optimization audits assure that you build up a strong foundation for future Internet marketing efforts, optimize your ROI, as well as improve your natural search ranks. A search engine optimization audit could be performed following a redesign, getting ready for a new site, as a general site health check-up or a certain solution to an issue with the search engines. All search engine optimization audit SEOPad writes are custom-made to suit your needs, timeline and resources.
Depending upon your circumstances, our search engine optimization audits could involve each of these if it affects your site's performance:
Blog optimization
Social media indicators
Digital assets
Mobile optimization
Image optimization
Local targeting
Webmaster accounts
Analytics
Conversions
Datafeed optimization
Duplicate content
Content
Meta tags and page titles
Keywords
External linking strategies
Internal linking strategies
Template-specific recommendations
Navigation and file structure
XML and HTML site maps
Code validation
Page load time
Crawl issues
Indexing issues
Robots.txt
404 page
Redirects
URLs
Sub domains
Domains
On completion of the search engine optimization audit, SEOPad will schedule a phone call with your team to assess our recommendations, as well as be certain there are not any concerns or questions. Once you have had an opportunity to assess the search engine optimization audit, we will ask to see your implementation strategy. We wish for our customers to succeed, therefore we have to know that you will have the ability to implement the search engine optimization audit recommendations within a timely manner, assuring you the ideal probable return.
If you are curious in studying more concerning our search engine optimization audits, call us right away to see how our search engine optimization consulting services could assist your website in increasing and better converting organic traffic.
Submit Your Website for a Micro-Search Engine Optimization Audit
Do you have a site that's producing less-than-satisfying results? Are you annoyed by your website's poor conversion rate or high bounce rate? Do you rank upon the sixth page of Google for your top keywords, even following attempting all SEO tips you have seen on the Internet?
A well-constructed website, good content, and high-value backlinks all are vital in search engine optimization. Weakness within only one of those areas may affect search engine ranks. It'll take industry experience and a trained eye to prioritize the activities required to be back on track. SEOPad's Micro-Search Engine Optimization Audit could kick start your website on the path to recovery.
If your website is selected for one of our Micro-Search Engine Optimization Audits, we will spend 3 minutes publicly assessing your website and provide fast action items which you could do to improve your website. We confess 180 seconds is not long enough to provide a complete search engine optimization audit, yet we wish to provide you a running start whilst assisting readers who might be faced with similar issues.
The SEOPad staff chooses websites according to internal criteria, as well as we don't guarantee that your website will be selected for assessment. Before submitting your website, you have to agree to these:
Verify that you own the website and/or possess the right to submit it for public assessment.
Verify that you aren't presently working with an additional SEO consultant or agency.
Understand that your website will be publicly audited and we might promote and utilize your brand in accordance with this audit.
Agree that the micro-search engine optimization audit is free, as well as you aren't under contract with SEOPad as a customer.
Understand that results can't be guaranteed.
Agree that SEOPad won't be held liable for any alteration made to your website. We're providing complimentary suggestions in 3 minutes and ask you to contract a consultant or agency for a comprehensive, personalized search engine optimization audit.
Check out our listing of obtainable Web marketing services or get in touch with us immediately to check how we might aid your website.