See rest of article in Part 1
Social Media Localization
 Nowadays, a site isn't anything if it isn't linked to a strong social media tool, campaign, or engagement. It's becoming more of a fact, even for smaller businesses, traditionally not having the ability to compete with multi-million dollar search engine optimization budgets of bigger corporations. For most sites, social media will be the largest driver of conversions and traffic in future days, which is why getting it absolutely correct is as vital, if not more so, than customizing the websites feel and look to certain targeted marketplaces.
 That being said, we must be cautious with social media localization; there are a couple of crucial elements to this. The initial one includes localizing benefits and promotions in order for them to be suitable to consumers in various portions of the world. A second element to think about is that your approach to social media engagement needs to change, additionally depending upon the audience.
 Keep in mind that your audiences, whilst they might be curious about your business, are really very different. Tweet concerning noodles, raw fish, and manga, and the audience in Japan are going to, without a doubt, lap it up, yet attempt the same in Germany and you will be ignored. Therefore, topical differences could be key variables to think about.
 Every population center is miles away in terms of icons, culture, and significant events and dates, and the gap becomes broader the further you travel. It is safe to bet that a company must approach social media localization within a different way for every marketplace targeted, and as it might seem as if it's a 'no brainer' to a few, it is shocking how many businesses leave off adding professional assistance inside this department.
 Of course, social media localization still is a novel concept, yet one tool which can be of assistance is Trendsmap. Mainly made for Twitter, Trendsmap permits a user to follow present trends in different portions of the world, from Australia to Venezuela and all places in between. A proactive user will have the ability to identify popular subjects and utilize the 'opportunities' to engage their followers.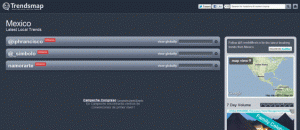 Services and tools like SocialLingo, one new product from ComTranslations (globalization solutions provider), provides insight inside the social global interactive future.
 This type of a targeted approach is a critical basic component of success for all entrepreneurial growth of international digital businesses. You must accomplish these 3 primary objectives of social media localization; develop an individual experience for customers, promoting engagement by sharing some common ground, as well as form a close community of followers and fans around the world. Social media and website localization becomes more complicated, as well, as more marketplaces are targeted. Plus, adding in brand new mobile services and streams further complicates the total localization pie. However still, developing a loyal consumer base at a grass roots level as well as an overwhelmingly positive image of the brand amongst different communities is worth the effort put forth. In the end, your business objectives end up being understood across all marketplaces.