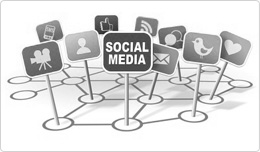 The objective behind SEOPad's SMM (social media marketing) services includes putting your business within a position to tap inside the 2-way conversation naturally occurring between your customers and you. Our services are made to tell you where individuals are chatting about you, the places where you could best become involved, as well as the tactics you ought to utilize to assist in increasing awareness of your brand.
Via our competitive analysis, social media audit, and customized interactive plans, we will teach you how you can take advantage of the social Internet and how you can successfully drive traffic to your site. SEOPad's social media services will include:
SMM (Social Media Marketing) Plan: Have you been assigned the task of spending an interactive marketing or social media budget, yet you do not know where to begin? We will evaluate your requirements, outline opportunities; then prescribe certain actions for long-run success of social media.
Implementation Guideline: Did you already determine what you wish to do with social media, yet you require assistance in navigating a complicated and subjective landscape? We will work with you in order to assure your brand's integrity, compliance with the various mediums, as well as best practices for future communication and development.
Software Recommendation: If there are many search engine optimization tools, there are many more social media tools because of the burst of open source software, as well as a bigger audience. Locating tools to track opportunities, performance, management and more could be daunting, yet we could assist in narrowing your options based upon environments, resources, and budget.
Social Media Audit: It's a detailed analysis of your website's presence around the different social networks and a plan for methods of improving it. Not every website possesses a place on MySpace or Digg, therefore we cater our implications to realistic choices involving relevant mainstream tactics and niche opportunities.
Competitive Analysis: Is the competition doing a great job with blogs, videos, widgets, linkbait, or community building? We will examine their tactics, prospective service providers, as well as action alerts which you could begin implementing to shake their grasp on your field.
Social Profile Development: We'll identify the social networks in which you ought to be participating and where individuals are chatting about you. We will additionally assist you in creating and managing your own social media profiles in order to attract traffic and leverage the 2-way conversation.
Badge Creation & Strategy: Do you wish to spread happiness to your users by providing them something that is relevant or useful to them? We could develop interactive badges which are going to position you as an authority within the field and possess obvious link-building advantages.
Widget Strategy Creation: We'll examine your site and see if you'd benefit from any interactive widget campaign. It'll include identifying which kind of widget might work for your website, its possibility for success, and what the competition are (or aren't) doing, as well as how you could better that.
Blog Design, Optimization and/or Setup: Blog that aren't correctly set up will not attract readers or bring you search engine benefits you are after. We will work along with you to discover the ideal blogging platform for your requirements, assist you in optimizing your blog for success from the start, and show you how you can fix it to make it more accessible to search engines and users alike.
Blog Strategy Creation: We could work with you to develop a blog plan which carves a space for your personal or corporate brand in the greater blog atmosphere. It may involve crafting concepts for blog posts, writing these posts themselves, teaching you how you can comment on additional blogs to build up awareness, and a lot more.
Community Building Plan Creation: We will outline what communities are worth observing, what your competitors are doing and how to naturally enter those communities; then form relationships. This strategy also will teach you how you can identify the vital conversations within your field and how, when, and whom you can reach out to.
Community Observance: Do you not possess an in-house staff which you could allocate community building to? Nobody knows your industry and services better than you, yet if you want assistance, we could observe the communities that are important to you, track your keywords or brand across those, as well as proactively respond to negative and positive mentions alike.
Check out a complete listing of our obtainable Internet marketing services or call us right away to see how we could assist your site.